In 2015 Citizen solidified its reputation worldwide as a renowned watch manufacturer keeping its eyes on both the past, honouring it, but also on the future through innovation and ingenuity. With that in mind, we have put together a list of best Citizen Men's watches for 2015. All these watches come with a 6 year warranty in the UK, proving once again the unbeatable quality of Citizen watches.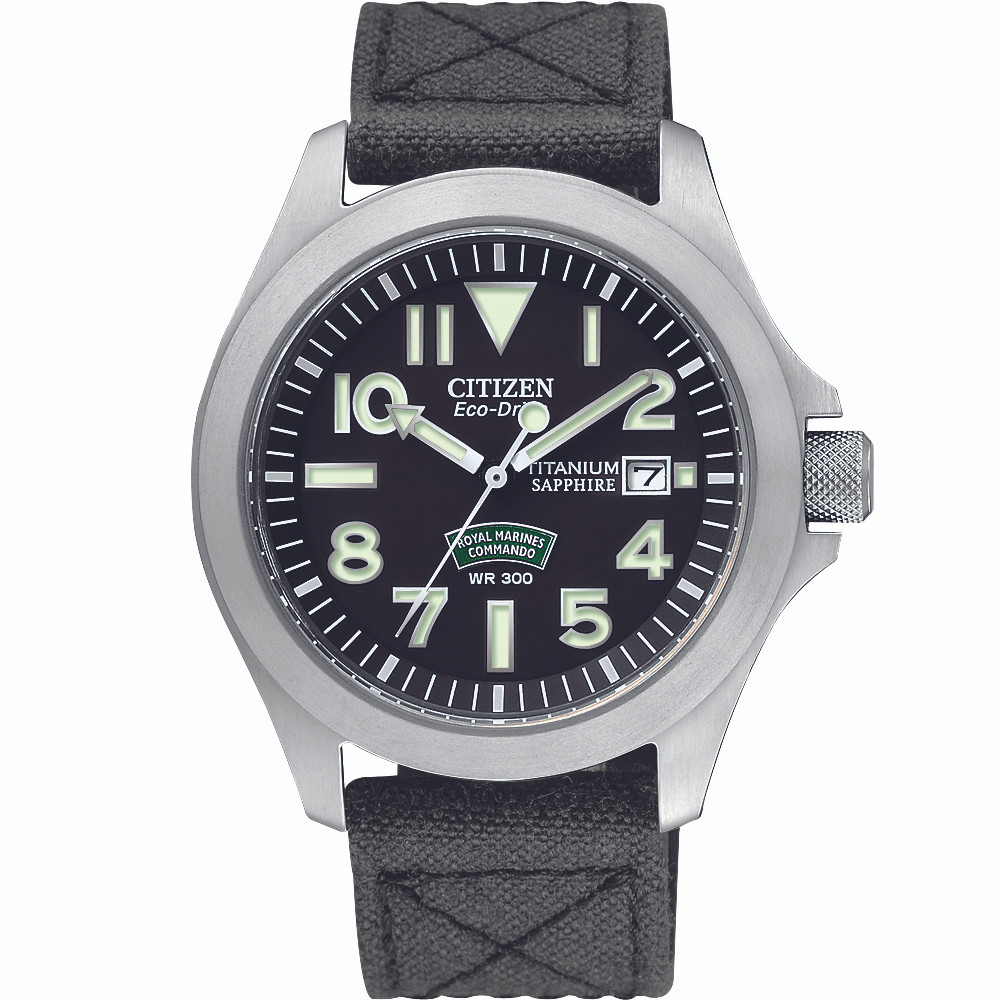 Citizen Royal Marines Commandos BN0110-06E
A tough watch, made of super titanium, making it more durable and 40% lighter than stainless steel. The case is ion plated, thus makes it magnetic resistant. Finally it was fitted with a highly resistant military grade Kevlar strap. Citizen honours the Royal Marines Commandos, with this watch, a statement saying "Failure is not an option". describing both the watch and the Royal Marines. Additional features such as Eco Driven, Light powered; Neo-luminescent hands and markers, ideal in low light environments. As well it is shock & magnetic resistant and a mind-blowing 300 meters water resistant. Another military inspired feature ingeniously giving it a customizable dog tag keeper.
Check Price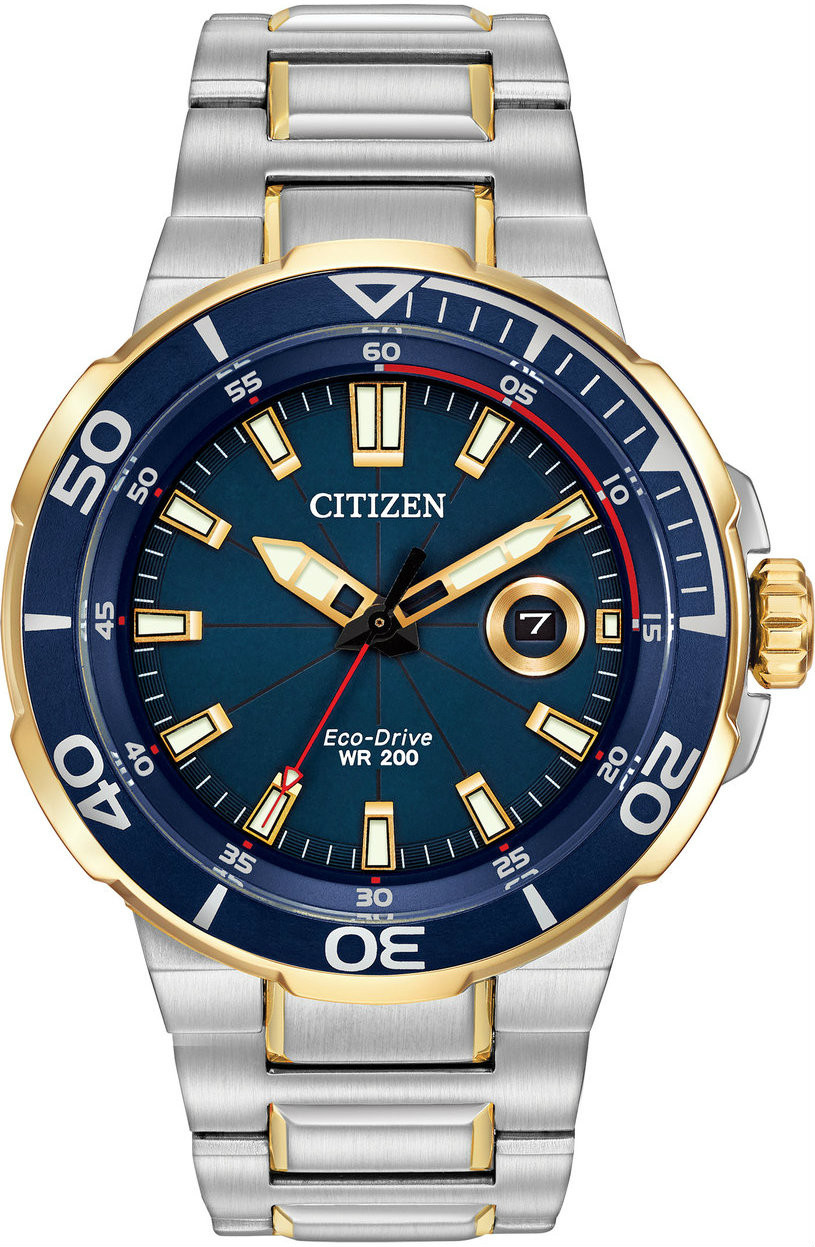 Citizen Endeavor Blue Dial Sports Watch AW1424-54L
A nautically-inspired timepiece reflecting humanity's mastering of the sea, of its technological innovations and harnessing the power of light through Eco Drive technology. That explains the colour choices having a dark blue analogue dial on a silver stainless steel bracelet, with a touch of gold on the bracelet, crown and the dial. All these put together mentally trigger an image of a robust boat sailing the vast sea guided by a bright sun. Neo-luminescent hands and markers, ideal in low light environments adding to its visual pleasing character. Date display and a one-way rotating elapsed bezel, making it not just good looking but practical as well.
Check Price
Citizen Red Arrows Chronograph Watch CA0080-54E
A timepiece powered by any light literally sets the sky as the limit by honouring RAF's almighty Red Arrows. Their imposing insignia proudly sits on the right hand side of the black dial whilst on the left hand side sits a sub-dial designed as one of their plane's cockpit gauges displaying time in a 24 hour format. The inner bezel's encloses this masterpiece by resembling a pitch interpreter of a Red Arrows plane which actually has a rotational function triggered by the left hand side crown. To make it shine even more it was fitted with a Silver Stainless Steel case and bracelet and a fold-over clasp with hidden double push buttons for extra piece of mind.
Check Price
Citizen Titanium Sapphire Glass BM7170-53L
A bold stylish robust Timepiece, described in one word as "indestructible", having a Grey, super titanium bracelet and case and a highly resistant Sapphire Glass, protecting its inner core and blue dial. As designed to last forever it relies on Eco Drive technology, providing an endless supply of light power and eliminating the need of replacing its battery. It is also water resistant up to 100 meters, featuring a date display and by having its hands and markers neo-luminescent coated makes it glow in low light environments.
Check Price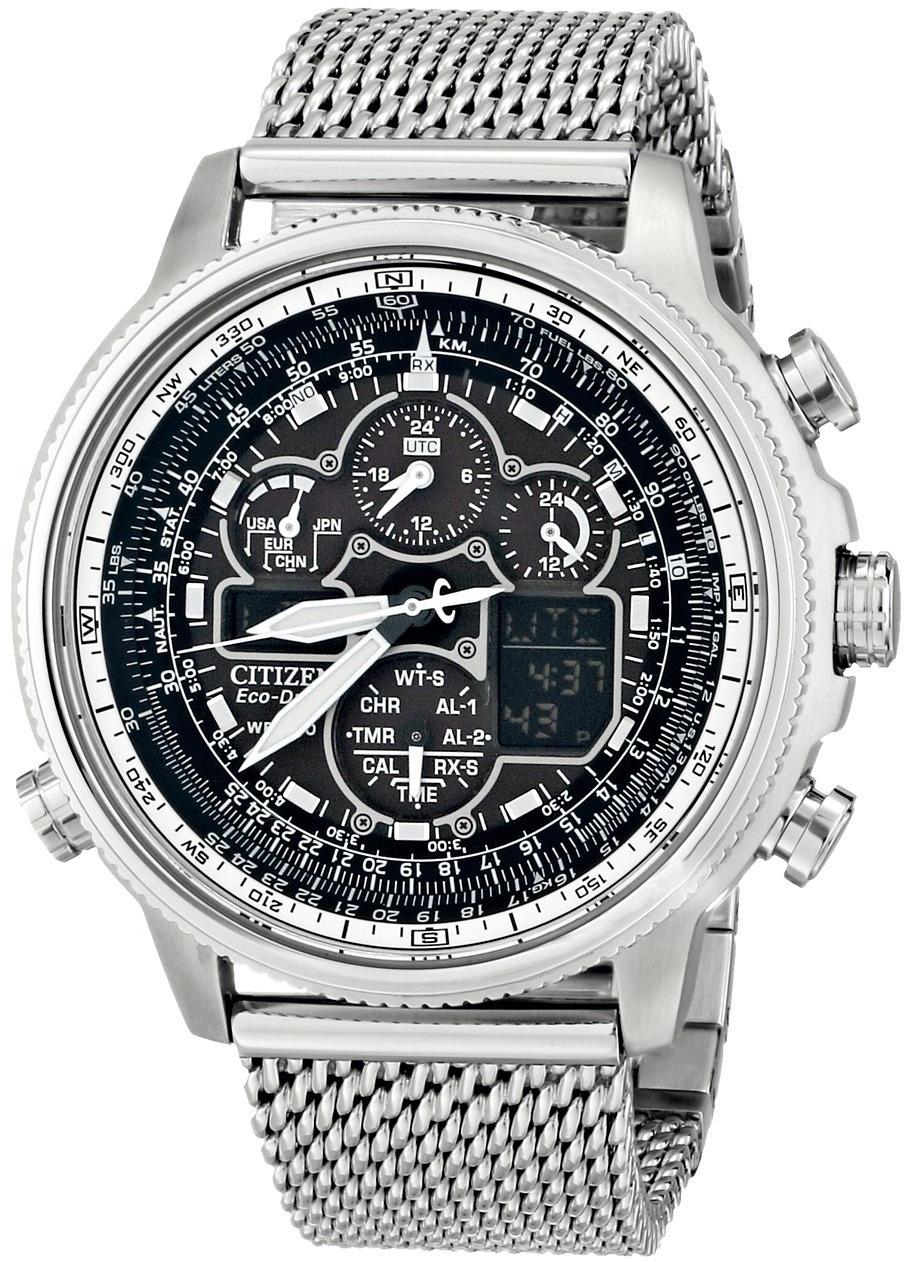 Citizen Navihawk Pilot Atomic Watch JY8030-83E
A luxurious men's watch with a superb stainless steel mesh bracelet both elegant and stylish, complemented by the stainless steel case, having a Pilot's rotating Slide Rule Dial Ring which encloses a black dial with 4 sub-dials and digital displays. Performs on all levels as taking advantage of Eco Drive technology, eliminating the need of replacing the battery as powered by light therefore featuring a power reserve indicator. Atomic timekeeping accuracy achieved through Radio Controlled technology, 200 meters water resistant, perpetual calendar, updating itself at the beginning of each month. Multiple alarms and Anti-Reflective Coated Mineral Crystal Glass.
Check Price
Citizen Stylish Brown Strap Watch BM8475-26E
A design both elegantly stylish and contemporary with Citizen's light powered technology thus not having to worry about changing its battery. Perfect visual contrast achieved by a 2 toned choice of black & brown. The Strap made of genuine brown leather fitted on a Black stainless steel case which houses a black dial with orange markers which display both a 12 & 24 hour format. Features as well a day& date function. Ideal for a young men looking to blend character with style in order to maintain its individuality. In low light environments neo-luminescent hands and markers glow vibrantly ensuring it won't go unnoticed after nightfall. Practicality was taken into consideration as well by making it water resistant up to 100 meters.
Check Price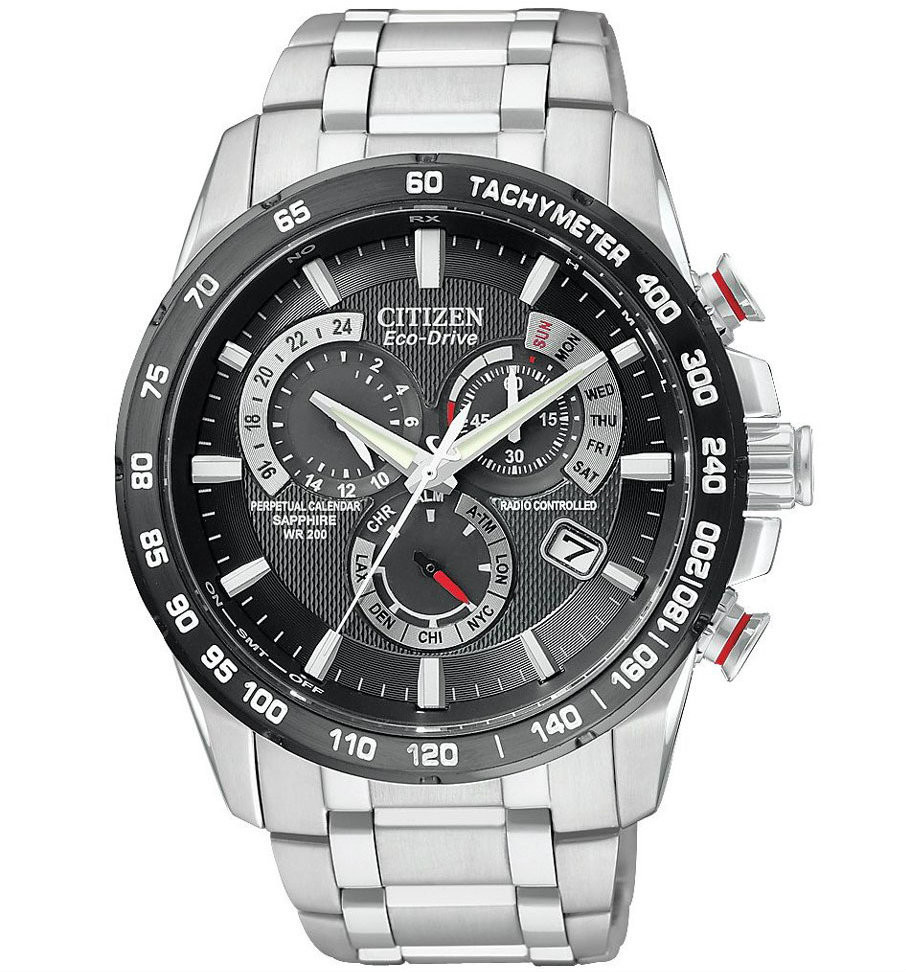 Citizen Perpetual Radio Controlled Watch AT4008-51E
A timepiece renowned for highly accurate timekeeping through Radio Controlled technology and powered by light thanks to its Eco Drive technology. Visually eye catching features such as a Silver Stainless Steel bracelet, black case and analogue dial with a stylish woven grey metallic background and 3 sub-dials, 2 of them having a playful touch of red which can be seen on its 2 buttons as well. The sub-dials feature: a 24 hour format display, perpetual calendar with a date & day display function, automatically updating itself at the beginning of each month. A power reserve indicator, and last but not least the 3rd sub-dial shows the world's 5 time zones thus making it straight forward to adjust. Water resistant up to 100 meters. An elegant men's watch, both discreet and eye catching.
Check Price
Citizen Eco-Drive Classic Leather Watch BM8242-08A
Its general simplicity given by this old school classic design, featuring a white dial, gold hands, markers and case, fitted on a stylish luxurious brown leather strap,upgraded without stripping it of its originality. Fitted with Eco Drive technology, as fuelled by light and not having to replace its battery. Given a date and day display function and fitting a durable mineral glass thus making it water resistant up to 100 meters. Ideal as a wow factor for a sociable, always out and about men.
Check Price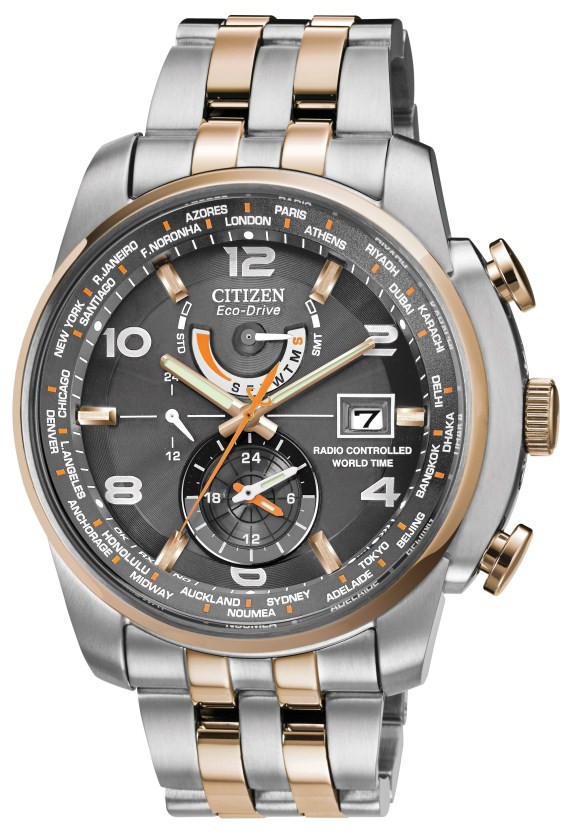 Citizen Dual Time Zone Radio Controlled Watch AT9016-56H
Impressive Atomic timekeeping relating to analogue dual time zones display, intelligent Perpetual Calendar with date/day display that automatically updates itself at the start of each month. Alarm function, Anti-Reflexive Sapphire Crystal glass, thus making it 200 meters water resistant. Its Eco Driven, light powered technology eliminates the need of replacing the battery and gives it a power reserve indicator. Visually imposing as robust, having a two toned rose gold stainless steel bracelet and case with orange accented dial.
Check Price
Citizen Super-Slim Stiletto Watch AR3034-59A
A luxurious timepiece, visually distinctive due to its colour choices overall having a touch of gold throughout its Silver Stainless Steel bracelet & classy rectangular case, as well as on its hands, markers and the crown. The bright contrast completed by its white dial. Its ultra-thin luxurious design is even more impressive as it operates on Eco Drive technology, powered by any type of light, therefore not having to worry about replacing its battery. It is water resistant up to 30 meters, so the watch can take occasional splashes.
Check Price
Citizen Satellite Wave GPS Watch CC3005-85E
Featuring ground breaking technology via Satellite GPS timekeeping with worldwide cover, no longer relying on atomic earth-originated signals to ensure chronographic accuracy, but on orbital satellite relayed atomic signals. Additional features such as: perpetual calendar which auto-corrects itself each month, day & date display, power reserve indicator and 100 meters water resistant. Having a stylish Silver Stainless Steel bracelet and case, protected by an Anti-Reflexive Sapphire Crystal housing a black dial. A man's watch that brings the wearer closer to the start, whilst keeping its feet on the ground.
Check Price