Posted by Nicole on 30th Sep 2019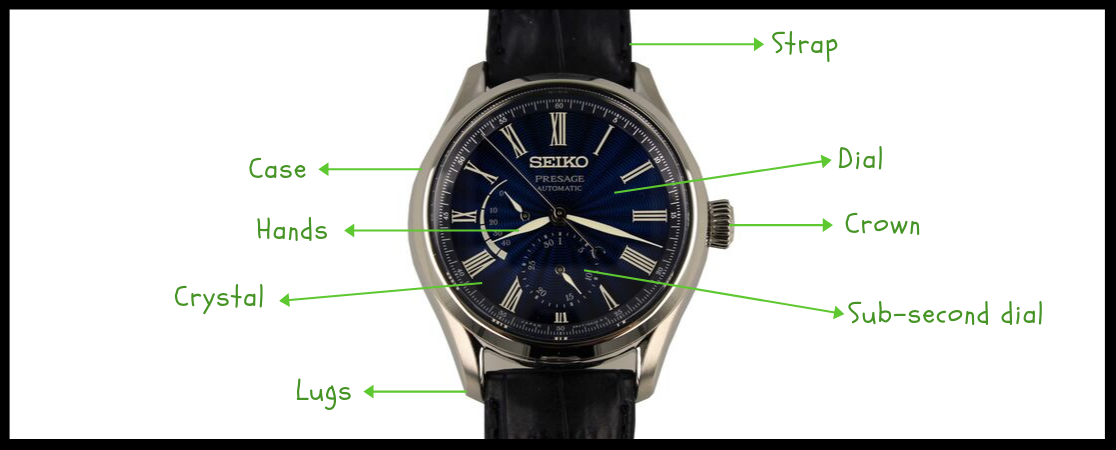 Let's talk about watch components. There are so many words used to explain the different parts of a watch that could be difficult to understand to someone new to watches. Here, I will take you through the words you need to know when talking about watches. Most can be found on all watches, other's can only be found on some.
Case - The case houses the mechanism, holding everything in place and can be made of steel, titanium, plastic and more.
Dial - The dial is the face of the watch where the detail and beauty reside. This usually features numerals or markers that the hands point to.
Crown - The crown is used to set and wind a watch, usually found at 3 o'clock or sometimes other positions. You can get different types of crowns including screw-down, water-proof, dust-proof and dress.
Lugs - Lugs are a part of the case where the strap is attached and can come in all different shapes and sizes.
Crystal - A watch crystal is the glass on the front or back of the watch, which allows you to see inside the case. Don't mistake this word being used for diamonds featured on the watch. Different watched use different types, including; gorilla glass crystals, sapphire crystals, mineral glass crystals and more.
Hands - Hands, in their many forms, are what point to the different features* on the dial. Types of watch hands you might see include; alpha hands, baton hands, breguet hands, cathedral hands, dauphine hands, mercedes hands, leaf hands, syringe hands, spade hands, sword hands and more. Some hands may even have luminescent filling. *time, day, seconds etc.
Sub-Seconds Dial - Many watches you will find have a separate, slightly smaller dial on the main dial, to show us the seconds.
Strap/Bracelet - This is the band that holds the watch case to your wrist. These are usually made from materials like metal, leather, rubber or nylon. Check out our Different Watch Straps Blog for more on this!
Movement - The movement is the mechanism that powers the watch.
Bezel - A metal or occasionally ceramic ring that surrounds the watch crystal. Many bezels are for decorative use only but the most useful bezels contain a scale for time or other measurements. Most remain stationary but for diver's watches, these bezels most likely rotate.
Calibre - Another word for movement, often used for specific model names which helps identify the specific instruction manual.
Case Back - The case back is as obvious as it sounds... it's the back of the watch. Here, you can access the inside of the watch by removing the case back.
Deployment Clasp - A way to fasten a watch by closing in on itself, the clasping. Avoiding leather getting worn or stretched out.
Buckle/Clasp - The most common parts used to fasten a watch band.
Jewels - Synthetic rubies used as bearings at the heaviest point of wear in a watch movement in order to reduce friction between moving arts and increase movements lifespan.
I hope you found this blog post useful and please let us know if there is anything else you would like to learn about watches.